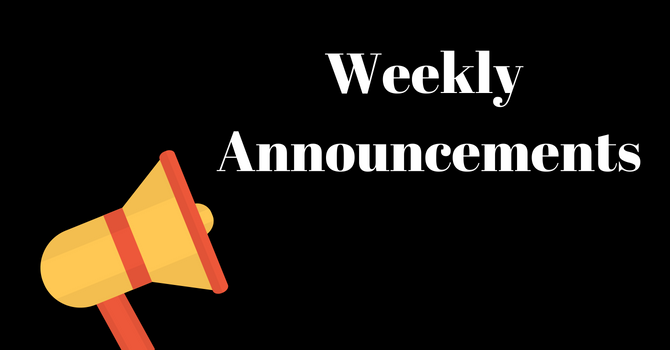 ~ANNOUNCEMENTS & INVITATIONS as of April 11, 2019~
"Keeping Sabbath" Lenten Series on Thursdays, 6:30 – 8:30 pm. Come to one or both remaining sessions. Please extend the invitation to others as well. (No registration necessary).
• Thursday, April 11th ~ with supper provided while Donna presents The Stone Soup Story. Come wearing an outfit/item that you've purchased at a thrift or consignment store as we'll join in this session about "Keeping Sabbath" when it comes to food and fashion... living simply so others can simply live.
Upcoming Worship Services:
• April 14/19 Palm Sunday Service & Reaffirmation of Faith. Please join in the procession of followers (Luke 19:8-40), and welcome Joanne Wiechnik and Dave Goodwin into full membership in our church
• April 18th ~ Holy (Maundy) Thursday @ Stettler United Church… a commemoration of the Last Supper – with footwashing – remembering Jesus' commands to love and serve one another – is the theme.
• April 19th ~ Good Friday @ 10:00 a.m. @ St. George's Anglican
• April 21st ~ Special Easter Breakfast @ 9:15 a.m. hosted by the Men's Breakfast Group
• Easter Sunday @ 10:30 a.m. @ Stettler United Church. We will incorporate the Transformation of the Cross and Celebration of Communion within this ONE service this year.
• April 28th ~ Jan's last service before her Sabbatical & Holiday time. Goodwins are away, participating in a United Church "Music Matters" conference in Halifax. ( http://musicunited.ca/music-matters-2019-april-26-28-in-halifax/#more-55188 )Veronica Webber will be our guest accompanist.

Spring Fair ~ Saturday May 04, 2019 ~ Even though we have quite a few vendors, we are still in need of more. Please help by spreading the word. If you have any garage sale items – this would be the day and the place to sell them. Tables are available to rent, 6ft $25.00 or 8ft $30.00 (per table). Please contact or have them contact Michele in the office.
• Pie making ~ Fruit Pies ~ April 17th (morning). If you have frozen fruit to donate, please bring it to the freezer at the church and/or contact: Letty Docherty (403-742-8465)
Worship @ Lodge & Care Homes:
• April 16 @ 2:00 p.m. @ Willow Creek
• April 16 @ 3:30 p.m. @ Paragon Place
• April 21 @ 2:45 p.m. @ Heart Haven
• April 21 @ 3:30 p.m. @ Heritage House
• April 26 @ 3:30 p.m. @ Points West Living
UPCOMING:
• Avabelli Dance Troupe ~ Mondays @ 7:00 pm
• Quilting ~ Tuesday Apr 16 @ 10:00 am
• Men's Breakfast Wednesdays @ 7:00 am
• Fruit Pie Making ~ Apr 17 (morning)
• Church Art Mice ~ Wednesdays @ 10:00 am
• Drum Circle ~ Apr 17 @ 7:30 pm
• Lenten Series ~ Thursday @ 6:30 – 8:30 pm
Support for Sabbatical ~ Many thanks to those who through participation in special fundraisers, and generous personal donations, are recognizing that we will have some extra expenses May – July. The Worship Committee are presently confirming leadership for each Sunday. Some of those are Pulpit Supply. The Honoria offered then is $215, plus mileage. Perhaps you'd like to offer a corresponding gift to the church over and above your regular donations. Is so, thank you very much.
Books/Magazines/Devotionals ~ Please help yourself to using/borrowing things from our church library and/or literature racks located at the back of the sanctuary and near the church administration office.
• Broadview ~ The United Church Observer is now renamed and faith-based publication seeking wider readership on-line and in print. Check: https://broadview.org/
WIDER CHURCH ~ CHURCH IN COMMUNITY
Big Valley United Church Ham Supper & Silent Auction ~ 4:30 – 7:00 p.m. April 14th @ Big Valley Community Hall
EmBellish ~ Camrose United Church Handbell Choir ~ Spring Tea & Concert. Sunday April 14th 2:00 pm. Tickets $15.00 call 780-672-2176. Tea & Treats after concert.
Cantus Choir Spring Concert ~ April 14th @ 7:30 pm, St. Peter Lutheran Church
Understanding Responsive Behavior (Step into the Shoes of Someone Experiencing Dementia) ~ Thursday April 18th, 9:15 am – 3:30 pm. Stettler Hospital & Care Centre, Room 162. To register contact Celeste Reid @ 403-740-8565 or email [email protected]
Spring Steak Night ~ In support of Crisis Aid Program ~ April 27th @ Brenda's Cozy Café. First seating @ 5pm, Second seating @ 7:00 pm. Tickets $30.00 per person.
Erskine United Church Spring Supper ~ 5:30, April 28th @ IOOF Hall (tickets available in advance by calling Evelyn Strandquist: 403-742-4880)
Stettler & District Music Festival ~ April 15-26, with Grand Concert April 28th @ https://www.stettlermusicfestival.com/
Stettler Senior Singers Spring Choir Festival ~ Thursday May 2nd @ 1:00 pm. St. Peter Lutheran Church. Admission ~ Choir Members $6.00, Guests $7.00. Refreshment & Lunch to follow.
Spring Steak Supper for Hospice ~ May 04th @ Brenda's Cozy Café. Two sittings at 5:00 pm and 7:00 pm. Tickets available from Karen Phibbs @ 403-742-7811 or at Sage Wellness Stettler. (please note, cost not on flier)
Bar Harbour Camp @ Buffalo Lake ~ 2019 Summer Camp Registration is ready! Check out the options http://www.barharbourcamp.com/
Canadian Foodgrains Bank ~ Cyclone Idai Donate before April 14th and the Canadian Federal Government will match your donation! https://foodgrainsbank.ca/news/government-of-canada-to-match-donations-for-cyclone-idai-crisis/
Check for United Church of Canada news & announcements at:
https://www.united-church.ca/
Examples: Moderator's Easter Message https://www.united-church.ca/news/moderators-easter-message-2019
Notes from Nora (General Secretary's blog) ~ Keeping Hope Alive https://www.united-church.ca/blogs/round-table/note-nora-keeping-hope-alive
Naramata Centre newsletter https://myemail.constantcontact.com/March-Newsletter--Retreats--Summer-Programs--Youth-Programs--AGM
Chinook Winds Region: https://www.facebook.com/Chinookwindsregion