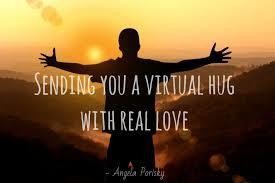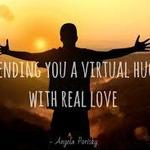 Thank you to everyone who sent love, hugs, thoughts and wishes back last week, it was truly appreciated.
From Text4Hope: "When bad things happen that we can't control, we often focus on the things we can't change. Focus on what you can control; what can you do to help yourself, or someone else today?"
Maybe you reach out by giving someone a phone call, text/email (if they do that social media thing). Some people are alone right now, making for a very lonely time. You never know how a phone call letting them know you are thinking about them might change their day… you just never know.
~ANNOUNCEMENTS & INVITATIONS as of March 27, 2020~

Jan and Michele are available. Office hours are 9 am – noon. Please remember to use safe distance and necessary precautions if you need to come to the church.

Suspended ~ All worship services and activities connected with Stettler United Church (except the important outreach ministry of the Stettler & District Food Bank) have been suspended until further notice.
• Jan invites us to think of being on a suspension bridge; held over troubled waters. It's a structure that's meant to carry us over to the safety of the other side. Hold fast, folks. And practice your faith for your own peace of mind and as you serve and strengthen others in whatever ways you're able.
• Please let Jan, or those from our Pastoral Care committee (Linda, Barbara-Lynn, Janie, Marilyn, Mervyn, Margaret, Sandi, or Lynn) know how you're doing and/or what you might need from the congregation at this time. Prayer requests are welcome, listening ears, and lending hands are available.
• Diane Strickland, a United Church minister, Community & Workplace Traumatologist, who offered pastoral care and counselling at the time of the flood in High River, is offering a series of video messages for us to learn self & community care during this pandemic: youtube.com/watch?v=DUIX9OaerzI&t=34s
Food Bank ~ At this time, the food bank is unable to accept food donations. If you would like to make a financial contribution, you can mail it to Stettler & District Food Bank, Box 1492 Stettler, AB T0C 2L0 OR online at canadahelps.org once on their page search for Stettler & District Foodbank.

Communicating & Connecting through Technology ~ Chinook Winds Region and the United Church of Canada have hosted meetings and webinars to keep us abreast of things and to share care and resources.
• Jan and Michele are climbing the learning curve and will soon be sending out our own links to join in meeting and/or worshiping using links available on your home phone and/or computer. We especially want to have things available during Holy Week.
o Please volunteer to help with music, readings, or technological support as you're able.
Please check our website ~ stettlerunitedchurch.org ~ and Facebook page ~ https://www.facebook.com/groups/stettlerunitedchurch/ for inspiration and information.

Financial Contributions ~ We truly appreciate you wanting to support the church and/or food bank at this time.
• Canada helps ~ an online donation site that is used by a number of United Churches at this time. Please click on the link, https://www.canadahelps.org/en/charities/stettler-united-church/ or visit the facebook page to connect from there.
• Postdated cheques can be mailed or dropped off at the church.
• Drop off at church office during office hours, remember to maintain a safe distance when dropping off.
• Drop off at church after hours using the mail slot in the office door.
• Through the website, stettlerunitedchurch.org. Use the "give" button at the top of the page and click on the donate button on the next page. Please note that the program used from the website at this time is Tithe.ly.
• Through Canada Post ~ Box 1027, Stettler Aberta, T0C 2L0
• The National and Regional Offices of the United Church of Canada are looking at ways to support communities of faith in continuing salaries of staff. Here's one link: https://chinookwindsregion.ca/2020/03/25/finances-in-communities-of-faith-during-covid-19/?fbclid=IwAR1WlEgOjjLJ1l6UJ-wEWwhK48xNhVZeu3UxijB_GU5J_wTQq_kC8G2XUSk
Easter Art ~ We have a number of prepared wooden "canvases" here at the church. We'd hoped to use them for our annual kid's art day on April 1st. That's another activity that's been suspended, though. You are welcome to arrange a safe way to get one or more of these "blank slates" and/or paints and turn it into a Sign of Easter Hope and Promise using words and images, for your own home, another's, or the church! WE also have lots of sidewalk space outside the church for those who like doing chalk art!

There are many things shared via The United Church of Canada https://www.united-church.ca/
 our Moderator Richard Bott has prepared worship for March 29th https://www.united-church.ca/blogs/round-table/moderators-online-worship-march-29-2020
 Indigenous Elders write to the church on COVID-19 https://www.united-church.ca/news/we-are-all-relatives


Canadian Foodgrains Bank ~ Responding to the coronavirus pandemic ~ Caring for your neighbours near and far https://foodgrainsbank.ca/coronavirus/?fbclid=IwAR171iQ-YNR2XF35SR99ZDjetx-JxFXtAAITp5LRdYDDCJs082k4iyBqADM